Data JCE Electronics LTD.
Data JCE is proud to be part of the Nisko Group, the largest electronic distribution in Israel.
One Stop Shop
At Data JCE you'll find one sales person will cover all your needs. Our highly qualified staff is able to identify the right products to fit your needs. We realize you may be looking for an out-of-box solution, and we can help you find it.
Data JCE offers all sorts of customized products to fit your needs and we aren't afraid to think out of the box to find the perfect fit for you.
Samsung Partnership
Data JCE was founded in 1995 based on franchise agreement from Samsung Semiconductors for the Israeli market and is now a highly respected authorized distributor of memory solutions.
Effective Memory Solutions
Dynamic support-based electronics components distribution company for the Israeli electronics industry.
Corporate & Personal
Data JCE's highly trained FAE's and sales teams associates and back office team are dedicated to thinking outside the box to provide exemplary customer service.
Vast Portfolio
We cover the following segments:
Unisor – R&D and Design Resources
Electronic & Memory IC's
Electro Mechanical Solutions
Optical Solutions
Timing & Frequency Products
Data JCE has emerged as one of the leading Israeli distributors for top line vendors and has quickly become a leading market innovator. Delivering top tier quality products is of Data JCE's top priorities. The dedicated and professional staff was formulated to understand the client's specific needs and build customized solutions. The company is able to sustain its average annual growth through its commitment to production-based time to market products.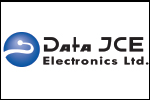 WebSite:
http://www.data-jce.com/
Company ID: 512240995
Address:
2A HABARZEL ST. Tel Aviv, ISRAEL
Contact: Lior Baskind
Phones:
972-3-6454444
Faxes:
972-3-6454400
ANTENNAS, GPS, GSM, GIS

ASIC / FPGA

BATTERIES PRODUCTS

CABLES & WIRES

CAMERAS

COMMUNICATION

CONNECTORS AND ADAPTERS

DISCRETE SEMICONDUCTOR COMPONENTS

DISPLAYS

ELECTRO-OPTIC

ELECTROMECHANICAL COMPONENTS

ELECTRONIC SUBSYSTEMS

EMBEDDED SOLUTIONS

FIBER-OPTIC

GREEN ENERGY

INDUSTRIAL MEMORY

INTEGRATED CIRCUITS (ICs)

LAB EQUIPMENT

LASER

MACHINE VISION

MANUFACTURING & PCB

MECHANICAL PARTS

MICROPROCESSORS & MEMORY CIRCUITS

MODEMS

MODULES LINEAR IC'S

MOTION CONTROL

OBSOLETE COMPONENTS

PASSIVE COMPONENTS

PLC (PROGRAMMABLE LOGIC CONTROLLER)

PNEUMATIC COMPONENTS & PARTS

POWER SOLUTIONS

RF & MICROWAVE

SENSORS

SUB ASSEMBLIES

SW SOLUTIONS

SWITCHES