Boran Technologies ltd.
Boran Technologies Ltd., founded in 1985, operates as representative and distributor for foreign electronic companies in Israel.
Boran Technologies Ltd. represents the major categories of the Israeli Electronics Industry: Active Components, Passive Components, Electromechanical Components, Displays, DC/DC Converters and Power Supplies.
Boran Technologies Ltd. represents the world's leading manufacturers and distributes their components in Israel. Amongst Boran's customers are most of the major Hi-Tech Companies, leading Defense and Medical Companies, and the prominent Development and Research Institutes.
Our team included experienced staff of 25 employees, serving as specialized Sales Engineers, Application Engineers, Sales Support, Customer Service and Logistics experts. The entire Boran team is available to assist customers, at any time.
Boran Technologies Ltd. owns its 7500 square foot office and warehouse and facility. Located in the heart of the Petah Tikva High-Tech Industrial Zone, the Boran facilities are within a short distance of most of the key customers and are equipped with the most advanced communication and powerful software capabilities.
Boran Technologies Ltd.'s marketing strategy is based on a wide offering of complimentary products, making the company powerful and attractive in the growing market place. It is in this way that Boran has focused and yet expanded over the years and it will continue to develop in this direction by adding additional lines, as well as dedicated people, inorder to provide larger coverage and devoted support to both customers and manufacturers.
Boran Technologies Ltd. has been highly rated by manufacturers for financial strength, stability, reliability, low business risk and growth. This financial strength enables the company to carry significant quantities of nearly 10,000 different part numbers – on the shelf, and to carryout long term, high volume transactions with major customers. The wide range of various components is available for either immediate delivery, ex-stock or on special import demand.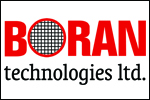 WebSite:
http://www.boran.co.il/
Company ID: 511081648
Address:
18 Shaham St. Petah Tikva, ISRAEL
Contact: Tzachi Shental
Phones:
03-9274747
Faxes:
03-9274741
ANTENNAS, GPS, GSM, GIS

CABLES & WIRES

COMMUNICATION

CONNECTORS AND ADAPTERS

CRYSTALS & OSCILLATORS

DISCRETE SEMICONDUCTOR COMPONENTS

DISPLAYS

ELECTRO-OPTIC

ELECTROMECHANICAL COMPONENTS

GREEN ENERGY

MODULES LINEAR IC'S

MOTION CONTROL

PASSIVE COMPONENTS

POWER SOLUTIONS

RELAYS

RF & MICROWAVE

SENSORS

SUBCONTRACTOR

SWITCHES