NISKO PROJECTS
A subsidiary company of the Nisko Industries. Established 1988, Located at Ramat-Hahayal, Tel-Aviv, the heart of the Israeli hi-tech industry, Nisko is considered one of the top 3 distributors in Israel, offering a wide range of Semiconductors, Active , Passive , Fiber Optics and Power Supplies.
Nisko Projects distributes products from the world's leading suppliers to a diverse and growing end market industry, with a mix of OEM Customers as well as leading Contract Electronics Manufacturers (EMS's).
Nisko specializes in design-in/demand creation activity.
Nisko Projects is uniquely positioned to serve the needs of the Israel's leading high-technology companies. The company's innovation and spirit, coupled with the quality, depth, and breadth of its knowledge and business connections, assures customers and suppliers that they have chosen the right partner to help them succeed.
Nisko's talented employees and their commitment to value-based management ensure that it will continue to be a leader in the Israeli technology industry.
Our Mission
Our mission at Nisko Projects is to satisfy our customer's needs by providing state-of-the-art quality service through superior product marketing, inventory services, outstanding technical solution support and professional selling/design-in procedures.
Not Just Electronic Components
Our most valuable asset is our employees. About 50% of our team is pure technical and marketing experts. Our strength is their knowledge, enthusiasm and experience. Having served the electronics industry for more than 25 years, Nisko Projects is uniquely positioned in the Israeli market. We are continuously introducing new innovative products, leading edge technology, superior service and a design-in focus.
It is hereby clarified that the pictures of products and components appearing in this Website are for demonstration purposes of Nisko Projects role as a partner to various kinds of companies in a variety of markets worldwide. All title, proprietary and IP rights in such products and components belong to their respective manufacturers.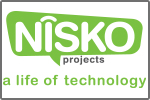 WebSite:
http://www.nisko-projects.com
Company ID: 512845876
Address:
2A HABARZEL ST. Tel Aviv, ISRAEL
Contact: ORIT CHEN
Phones:
972-3-7657300
Faxes:
972-3-7657333
ASIC / FPGA

CABLES & WIRES

COMMUNICATION

CONNECTORS AND ADAPTERS

DISCRETE SEMICONDUCTOR COMPONENTS

ELECTRO-OPTIC

ELECTROMECHANICAL COMPONENTS

EMBEDDED SOLUTIONS

GREEN ENERGY

INDUSTRIAL MEMORY

INTEGRATED CIRCUITS (ICs)

LASER

MACHINE VISION

MECHANICAL PARTS

MICROPROCESSORS & MEMORY CIRCUITS

MODEMS

MODULES LINEAR IC'S

MOTION CONTROL

OBSOLETE COMPONENTS

PASSIVE COMPONENTS

POWER SOLUTIONS

RF & MICROWAVE

SENSORS

SUB ASSEMBLIES

SWITCHES

TESTING EQUIPMENT / SOLUTIONS