Appletec
Appletec is a leading Israeli distributor of optical components, electronics,and value-added services to the communications, industrial/medical, and defense markets.
Appletec approaches electronics distribution with a simple question: What problem is the customer trying to solve, and how to deliver the best solution?
Celebrating 24 years in business, Appletec provides electronics and optical components distribution, second-sourcing, and value-added services for communications, industrial/medical, and defense markets in Israel.
What we offer
The largest inventory of off-the-shelf and custom components
A solution-oriented mindset
Established relationships with leading suppliers
Access to second sources worldwide
Deep expertise to deliver value-added services
Optimal value for the money
The component technologies we provide
Optics Telecom and Industrial optics
Passive components
Power supplies
IC components
Mechanical solutions
Value-added integrated solutions approach
Whether you need help to design a new product, to find second-source alternatives that maintain the integrity of your design, or simply to locate a specific component for the best possible price, please contact us.
We are committed to going 'beyond the catalog' to meet our customers' needs. We call our approach 'integrated solutions' because we start with defining a specific customer need, then integrating whatever products, services, or other means are necessary to find the best solution to that need.
Tell us what you want to achieve, and Appletec will help you get there.
Our people and facilities
Appletec's 30 employees include a high proportion of people with engineering and technical backgrounds who specialize in solving customers' problems in each of the markets we serve.
Appletec's headquarters are in Mitzpe Sapir industrial Park, a vibrant community northeast of Tel Aviv, Israel.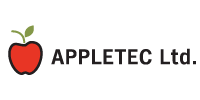 WebSite:
http://www.appletec.com
Company ID: 511524498
Address:
2 Granite St. Tzur Yigal, Israel
Contact: Ido Hagay
Phones:
09-7498777
Faxes:
09-7498999
ANTENNAS, GPS, GSM, GIS

ASIC / FPGA

BATTERIES PRODUCTS

CAMERAS

CNC

COMMUNICATION

DISCRETE SEMICONDUCTOR COMPONENTS

DISPLAYS

ELECTRO-OPTIC

ELECTRONIC SUBSYSTEMS

INDUSTRIAL MEMORY

INTEGRATED CIRCUITS (ICs)

LASER

MECHANICAL PARTS

MICROPROCESSORS & MEMORY CIRCUITS

MODULES LINEAR IC'S

PASSIVE COMPONENTS

POWER SOLUTIONS

SENSORS

SUB ASSEMBLIES

SUBCONTRACTOR

SWITCHES