ROTAL ADHESIVES & CHEMICALS Ltd.
The Rotal Group is a family business established in 1963 by Bernhard Rosenthal and was the natural continuation of a long dynasty of industrial and technical trading since 1825 by Lipman Rosenthal in Lohrhaupten Germany.
The management was passed to Jacob Tal (Rosenthal) who established and expanded the business in Israel and managed it until 2003 when management was passed to his son, Meir Tal. The Rotal Group consists of 3 companies:
• Rotal Industries and Trading Ltd. The representative of Henkel Loctite since 1963
• Rotal Adhesives and Chemicals Ltd. Represents several companies in the field of chemical finished products and equipment
• Lachman Ltd. Represents and distributes in Israel control and measurement equipment of around 40 companies
The Group services customers in Israel mainly in the fields of medical equipment, mechanical assembly, electronic assembly, maintenance, process industry and OEMs.
The Group has 35 employees and a sales team of different disciplines from all the engineering fields. Our main objective is to be professional and to give the best service combined with the best product. We represent around 50 companies worldwide and service 1400 customers per year, which is the vast majority of all the sophisticated industries in Israel.
The Group is well introduced in Israel's industry, mainly end users, but also retailers, and thus has a very good entre to most of Israel's industry. The Rotal team has a substantial technical capability; it consists of over 10 Engineers to handle sales and technical customer service supported by a team of administration, storage and financial services.
Rotal is considered to be one of the leading organisations in the Israeli market for the supply of:
Industrial adhesives | Electronic adhesives | Special lubricants | Metal work liquids | Soot reduction additives| Environmentally friendly cleaning products | UV illumination equipment | Dispensing equipment
Control and Measuring Equipment in the fields of heat, pressure, humidity, flow and level control.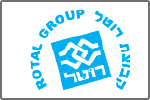 WebSite:
http://www.rotal.com
Company ID: 513163634
Address:
21 Atir Yeda St. Kfar Saba, Israel
Contact: Yaron Sarig
Phones:
+972-9-7667990
Faxes:
+972-9-7668991
BOARD DESIGN

ELECTRIC COMPONENT CLEANER

ELECTRO-OPTIC

ELECTRONIC & EPOXY ADHESIVE

GREEN ENERGY

PRODUCTION EQUIPMENT, MATERIALS AND SOLUTIONS

TESTING EQUIPMENT / SOLUTIONS