Teder Electro Mechanical engineering
Teder Electro Mechanical Engineering Ltd. was established in 1989, located in Petach-Tikva's industrial zone , Israel. Teder is acting as exclusive representative of various leading international manufacturers in the electronic industry.
Our activity covers a diversified range of electronics manufacturers ,telecommunication , medical and military aerospace oriented companies .
Our mission statement is to assist the customers in finding the best, most reliable and cost-effective solutions to their changing needs .
We at Teder understand that best quality products should be accompanied with a full technical support and high level service which we provide on each step of the way for over 300 customers.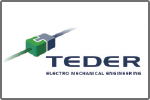 WebSite:
http://www.teder.com/
Company ID: 511458036
Address:
Global Towers, Building A, 17th floor 1st, Derech Yitshak Rabin St., Petach-Tikva, 4925110, Israel
Contact: Erez Shahrabany
Phones:
073-2331200
Faxes:
073-2331233
CABLES & WIRES

COMMUNICATION

CONNECTORS AND ADAPTERS

CONSULTATION

DISCRETE SEMICONDUCTOR COMPONENTS

DISPLAYS

ELECTRO-OPTIC

ELECTROMECHANICAL COMPONENTS

GREEN ENERGY

MANUFACTURING & PCB

MECHANICAL PARTS

PACKAGING

PASSIVE COMPONENTS

PC'S, WORK STATIONS & INDUSTRIAL COMPUTERS

PNEUMATIC COMPONENTS & PARTS

POWER SOLUTIONS

RF & MICROWAVE

SUB ASSEMBLIES

SWITCHES