EL-GEV ELECTRONICS LTD.
El-Gev Electronics Ltd. is a leading sales representative/distributor for manufacturers of Electronics, Fiber-Optics & RF/Microwave components/modules as well as T&M systems and Embedded Computer Solutions.
We are dedicated and committed to the sales of professional high quality components, sub-assemblies and systems to the regional industrial, data communication, telecommunication, networking, wireless, military and aerospace market.
El-Gev Electronics Ltd. was founded in 1987 and has established itself as a sales representative/distributor of high performance technologies with an aggressive, highly effective approach to marketing and sales.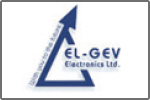 WebSite:
http://www.elgev.co.il/
Company ID: 511208225
Address:
Airport City, ISRAEL
Contact: Dan Beck
Phones:
+972-(0)74-7190000
Faxes:
+972-(0)74-7190099
ANTENNAS, GPS, GSM, GIS

ASIC / FPGA

BOARD DESIGN

CABLES & WIRES

COMMUNICATION

CONNECTORS AND ADAPTERS

DISCRETE SEMICONDUCTOR COMPONENTS

DISPLAYS

ELECTRO-OPTIC

ELECTROMECHANICAL COMPONENTS

ELECTRONIC SUBSYSTEMS

EMBEDDED SOLUTIONS

GREEN ENERGY

INTEGRATED CIRCUITS (ICs)

LAB EQUIPMENT

LASER

MICROPROCESSORS & MEMORY CIRCUITS

MODEMS

MODULES LINEAR IC'S

PASSIVE COMPONENTS

PC'S, WORK STATIONS & INDUSTRIAL COMPUTERS

POWER SOLUTIONS

PRODUCTION EQUIPMENT, MATERIALS AND SOLUTIONS

RF & MICROWAVE

SENSORS

SWITCHES

TESTING EQUIPMENT / SOLUTIONS