Admitec Ltd. was established in 1986 as trading and engineering company.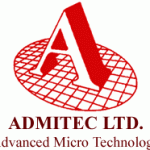 Admitec Ltd. is a well known exclusive representative, distributor and agencies company in Israel, for the leading world wide manufacturers of Active, Passive, Custom, & Optics Components, Back Planes, PCBs, CEM, Engineering, Design Tools, Foundry Services and test equipment.
Admitec Ltd. provides to the Israeli industry variety of standard and custom solutions and services from the very first stage of the design through the engineering and manufacturing steps, to the end product.
Admitec Ltd. offers design tools for different applications, engineering solutions, design verification & analysis, distribution and purchasing of components and modules, assistance in transferring from design to manufacturing, and proving manufacturing, OEM, and full turnkey solutions for the variety segments of the Israeli industry.
---
WebSite:
http://www.admitec.co.il/
Company ID: 511131658
Address:
20 Hataas st, Kfar Saba, Israel
Contact: Shiri Neev Shaul Kor
Phones:
972-73-2525400, 972-54-3090472
Faxes:
972-9-7668906
BOARD DESIGN

CRYSTALS & OSCILLATORS

Coils & Antennas

DISPLAYS

MANUFACTURING & PCB

MECHANICAL PARTS

METALS FOR INDUSTRY

POWER SOLUTIONS

SUBCONTRACTOR

TOUCH SCREEN

Transformers