Edco Technologies 1993 Ltd.
EDCO TECHNOLOGIES was founded in 1989 and has since become a leading supplier of industrial and military computer systems and a distributor of hardware in Israel.
Our mission at EDCO is to provide our customers with technologically innovative and yet competitive solutions. We use our expertise and establish long-term partnerships to cater to our customers' needs and expectations.
EDCO TECHNOLOGIES has more than 20 years of experience in designing, developing, manufacturing and marketing industrial computers and rugged solutions for a variety of customers, including leading Israeli telecommunications, military, avionics, medical and industrial companies. Edco provides its customers with functional and cost effective solutions.
EDCO TECHNOLOGIES is an exclusive representative of leading manufacturers in the USA, Europe and the Far East including: Trenton Technologies Inc, IEI Technologies Corp., Adlink, Moxa, Innodisk, Getac,Winmate, NLS, Adl, Zippy and others.
EDCO over the years continues to expand its line of products in order to offer its customers a wide range of solutions and capabilities.
EDCO's Main products include:
Industrial and rugged computers & displays.
cPCI, VME, PMC, PC104 based solutions.
Rugged mobile computers.
PC-based embedded solutions.
Serial data communication.
LAN / WAN Interface.
Bus connectivity interfaces.
Data acquisition and control.
KVM switching systems.
Etx/Com Express
EDCO TECHNOLOGIES specializes in customized design and turn-key projects. EDCO plans and manufactures whole solutions based on the client's requirements, including: full mechanical and electrical planning, card planning, power supplies, Backplane, Safety checks, and more.
EDCO TECHNOLOGIES prides itself on its commitment to a high standard of service throughout the lifetime of its products. We have a large team whose sole purpose is to provide the support for our customers. EDCO complies with all laws and regulations applicable to production processes, for the USA and Europe, and is ISO 9001 compliant.
EDCO's commitment to quality and innovation, combined with our close cooperation with world-class partners, enables us to deliver reliable, high-performance products to a growing customer base.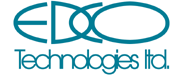 WebSite:
http://www.edco.co.il
Company ID: 511794588
Address:
Hamaelacha 10 st, Rosh Haayin 4809118, ISRAEL
Contact: Oshri Almog
Phones:
972-9-7999799
Faxes:
972-9-7677377
ANTENNAS, GPS, GSM, GIS

CAMERAS

COMMUNICATION

DISPLAYS

ELECTRONIC SUBSYSTEMS

EMBEDDED SOLUTIONS

INDUSTRIAL MEMORY

MODEMS

PC'S, WORK STATIONS & INDUSTRIAL COMPUTERS

POWER SOLUTIONS

SMART HOME

SUB ASSEMBLIES

SWITCHES

TOUCH SCREEN