National Instruments ISRAEL Ltd
Committed to Engineers and Scientists
Today's engineers and scientists are solving the world's most pressing challenges, such as developing better medical diagnostic and treatment tools, finding renewable energy alternatives, and improving infrastructure stability. National Instruments equips engineers and scientists with tools that accelerate productivity, innovation, and discovery to meet not only grand but also daily engineering challenges in an increasingly complex world. A graphical system design approach leverages productive software and reconfigurable hardware platforms, along with a vast community of IP and applications, to simplify system development and arrive at solutions faster.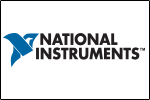 WebSite:
http://israel.ni.com/
Company ID: 512044488
Address:
18 Aharon BERT st. Petach-Tikva, ISRAEL
Contact: Yechiel PELED
Phones:
03-6393737
Faxes:
03-6397878
EMBEDDED SOLUTIONS

LAB EQUIPMENT

MACHINE VISION

MOTION CONTROL

POWER SOLUTIONS

RF & MICROWAVE

SWITCHES

TESTING EQUIPMENT / SOLUTIONS