Electrondart
Electrondart was established in 1976 by two highly qualified engineers with an impressive knowledge of the Electronic and Electromechanical Systems and an understanding and experience in the field of representing companies. Electrondart is an engineering-orientated sales organization focusing exclusively in designing, promoting and distributing advanced technology products which require a high level of technical knowledge so as to promote them. Our engineers assist our customers in the early stages of design, development and verification of the project. The aim is to keep a high level of trust and preserve a long term relationship.
We are proud to represent some of the leading world known manufacturers and to provide solutions to leading electronic industries in Israel. Over the years we have established excellent reputation for our knowledge and professional encounter with our suppliers as well as our customers which enhanced our ability to implant our suppliers products in our customers design and production lines therefore making our products a part of leading Israeli customers systems.
Electrondart grew and evolved into five technical specialty divisions:
Motion and Control Division
Electromechanical Division
Optical Communication Division
RF and Microwave Division
Imaging Division
Each division is headed by a senior engineer who specializes in applications and products.
All divisions are supported by three experienced administrative divisions:
Management | Logistics | Accounting
Our divisions maintain a high standard of cooperation thanks to our ERP system and good relations between our teams.
Electrondart is a very successful company and financially sound. We are proud of our 18 employers, of which half are highly skilled engineers specializing in their fields and are highly respected by the R & D divisions of our many customers.
Major product lines are developed under the expertise and guidance of our knowledgeable product sales engineers.
The internal sales operation comprises in integrated systems of sales and sourcing utilizing our on-line inventory and FOB management system.
Our team enjoys the technical challenge we receive from our worldwide and local business partners and keep up-dating our knowledge of technical changes in our dynamic field.
Our professionalism, service, interpersonal relationships and loyalty to our worldwide and local business partners and employees has led to long term partnerships benefiting all as we progress together obtaining a stable and substantial yearly growth.
Electrondart is proud of its partnerships with the leading manufactures in:
Aerospace, Military, Defense and Security, Telecom, Medical, Industrial and Data Communications foundation, awarding us with business and prime partnerships over a period of more than three decades.
Electrondart Ltd. Is an approved and authorized supplier to all major companies in the Israel Electronic Marketplace.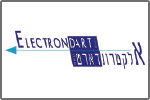 WebSite:
http://www.electrondart.com/
Company ID: 510818354
Address:
9 BEN GELIS STREET, SEGOLA, PETACH TIKVAH, ISRAEL
Contact: Ran Mey-Paz
Phones:
+972-3-9314447
Faxes:
+927-3-9302867
CABLES & WIRES

CAMERAS

COMMUNICATION

CONNECTORS AND ADAPTERS

DISCRETE SEMICONDUCTOR COMPONENTS

ELECTRO-OPTIC

ELECTROMECHANICAL COMPONENTS

ELECTRONIC SUBSYSTEMS

EMBEDDED SOLUTIONS

GREEN ENERGY

INTEGRATED CIRCUITS (ICs)

MECHANICAL PARTS

MICROPROCESSORS & MEMORY CIRCUITS

MOTION CONTROL

PACKAGING

PNEUMATIC COMPONENTS & PARTS

RF & MICROWAVE

SENSORS

SUB ASSEMBLIES

SUBCONTRACTOR

SWITCHES