EASTRONICS
Established in 1955, Eastronics is the largest hi-tech distributor in Israel.
Eastronics is the leading Israeli company in sales, marketing, service and support of high tech products, with a strong Design-In/Demand Creation activity.
Among the broad spectrum of technologies and products we offer to our customers:
– Intel Architecture CPU's
– Embedded ARM based Processors
– Microcontrollers
– DSPs
– RF and Microwave
– M2M Solutions
– Systems on Modules (SOMs)
– Programmable Logic Devices
– Flash Memories
– DRAMs
– Solid State Disks (SSDs)
– Communication Components
– Analog and Mix-Signal Components
– Power Solutions
– Embedded Systems
– Displays
– Embedded Operating Systems
– Security Software for Embedded Applications
– Test & Measurement Equipment
– Homeland Security Systems
– Video Equipment
– PC and Servers Building Blocks
– Storage Solutions
Eastronics employs a large group of highly experienced and professional Application Engineers from diverse background and disciplines, providing technical support from the early stage of the projects definition until production.
Our customers benefit from our advanced CRM and ERP fulfillment systems, supporting the entire supply chain cycle, including VMI services and EDI communication.
We offer to our customers a long term partnership with a leading, innovative and people friendly organization.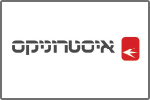 WebSite:
http://www.easx.co.il/
Company ID: 557673738
Address:
11 Rozanis St. Tel Aviv, Israel
Contact: Itzik Parnes
Phones:
+ 972 3 6458 777
Faxes:
+ 972 3 6458 666
ASIC / FPGA

COMMUNICATION

DISCRETE SEMICONDUCTOR COMPONENTS

DISPLAYS

ELECTRONIC SUBSYSTEMS

EMBEDDED SOLUTIONS

INTEGRATED CIRCUITS (ICs)

LAB EQUIPMENT

MICROPROCESSORS & MEMORY CIRCUITS

MODULES LINEAR IC'S

PC'S, WORK STATIONS & INDUSTRIAL COMPUTERS

POWER SOLUTIONS

RF & MICROWAVE

SENSORS

SW SOLUTIONS

SWITCHES

TESTING EQUIPMENT / SOLUTIONS