Beith Dekel LTD.
Founded in 1972, Beith Dekel represents and distributes leading brand products from all over the world. Located in the industrial area of Ra'anana Israel, just off the main road between Haifa and Tel-Aviv, we support many fields of Israeli industry in a wide variety of applications.
Beith Dekel has a staff of 24 people in sales, technical support, logistics, finance and purchasing. Our warehouse space is about 800 m² and we also have 350 m² of office space.
The products sold and represented by Beith Dekel are involved in almost every aspect of Israeli manufacturing. Our products can be found in many diverse fields, such as telecommunications, microelectronics, pharmaceuticals, laboratories, research institutes, fertilizers, integrated circuits, printed circuit boards, medical equipment and passive electronic components.
To the electronic industry we supply AC/DC power supplies, DC/DC convertors, Frequency products, LCDs,LCMs, memory ICs, memory cards, optical transceivers, connectors and others.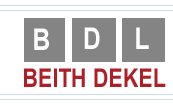 WebSite:
http://www.bdl.co.il/
Company ID: 510628472
Address:
16 Hatidhar St. Ra'anana, ISRAEL
Contact: Oshri Elmosnino
Phones:
+972-9-7611800
Faxes:
+972-9-7420073
CABLES & WIRES

CONNECTORS AND ADAPTERS

DISPLAYS

ELECTRO-OPTIC

INTEGRATED CIRCUITS (ICs)

LAB EQUIPMENT

MICROPROCESSORS & MEMORY CIRCUITS

PASSIVE COMPONENTS

PC'S, WORK STATIONS & INDUSTRIAL COMPUTERS

POWER SOLUTIONS

RF & MICROWAVE

TOUCH SCREEN